Opening Times: 12:30-13:00 and 20:00-20:30  
The Bloodknights have been searching for the true warriors who can protect the Excalibur, and luckily now they have found you! 
During Holy Sword, ten waves of monsters will be released from 4 directions in an attempt to destroy the Excalibur located at the center of the map. Your job is to protect the Excalibur.
You can find Captain Audrins in Pleiadene Temple.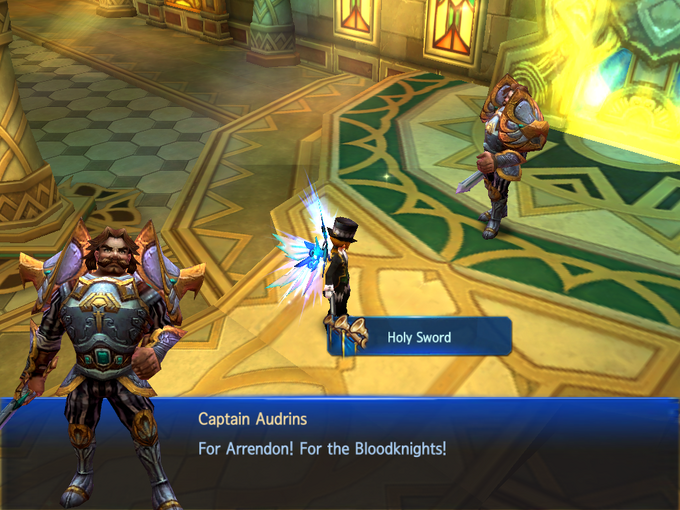 When you do, talk to him by tapping the bubble above his head.
Holy Sword is a 4-man team battle. By tapping the "Cross-Server" button at the bottom left, the system will automatically match you with a suitable Cross-Server team.
When the battle begins, 10 waves of monsters will attempt to attack the Excalibur. The enemies will get stronger with each passing wave. Your goal is to destroy the 10 waves in 10 minutes with the Excalibur still alive.
If you are killed during battle, you will be resurrected in 15 seconds at the checkpoint. There is no limit for resurrection.
You can tap the exit button above the minimap to quit anytime you want, but please be aware that Holy Sword is only available twice a day.
Rewards are given based on the number of waves destroyed and will be received even if you don't complete the final goal. The more people that take part, the better the rewards.